Welcome to Randy's Page!!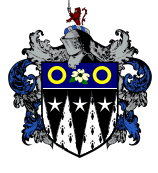 Above is the coat-of-arms that I designed for myself. The design is indicative of my heritage, my work, and my family.


My name's Randy, and I'm an alumnus of Mary Washington College (Class of '99), having majored in history. I received my Master of Military Studies degree from Marine Corps Command and Staff College in 2014. I'm involved in a little Internet-based game called ImagiNations where I run the Greater Zartanian Empire, the Empire of Albion-Merité, the Kingdom of Caledon, the Free Republic of Dignania, the United Brotherhood of Dignania, the Kiltan Republic, the United Territories of Fiarria and Nuarmia, and the State of Novoyoakes. I am an avid vexillologist and a regular contributor and editor at FOTW (Flags of the World). I live outside Fredericksburg, Virginia, (though I still call my hometown Madison County, Virginia), as does my wife, who graduated from James Madison University. I love you with all my Heart, Kelly! Thank you for the past 24 wonderful years, Sweetheart!!

---
I hope you enjoy this little homepage of mine. Just use the index at the top to help you, and I'm always open for comments or suggestions. Just E-mail me at the address below.
"They say a reasonable number of fleas is good for a dog –
keeps him from brooding over being a dog."
-Edward Noyes Wescott
Quote last updated 20 April.
young.r@verizon.net
Last updated on NSD 248744.0K (21 April 2017).